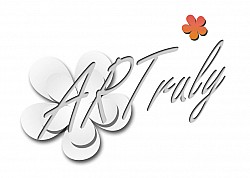 Located in beautiful West Cornwall, ARTruly is inspired by its stunning location and the vibrant colours of the ever changing seasons. We forever strive to recreate this beauty in our work.
Our flower & butterfly products are made from a composite material that is moulded and then worked with a number of other materials such as Sterling Silver, Swarovski Crystals, pearls and beads to enhance and finish the piece. There is nothing else like it!
The use of gemstone beads in our work has been our latest passion, each one relics of the past, shrouded in mystery and historical significance. A genuine gemstone is a natural wonder – the product of elements inadvertently merging under intense heat and pressure for thousands even millions of years to create something uncommon and unique.
We are committed to providing a unique, distinctive and quality handmade product with excellent service delivery for all our new and existing customers. We enjoy making a difference and take pride in fulfilling requests. Each item is individually hand made to order.
Where possible each piece comes with ARTruly's own unique hallmark and all items come presented in a gift box or bag.

Free delivery within the UK for all of our products.